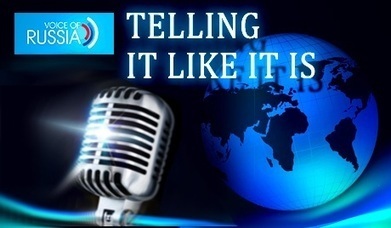 This week in Telling it like it is, the broadcaster James Max and the former Kremlin adviser Alexander Nekrassov discuss the response to the disaster in the Philippines, whether Britain, as former pri...
The Voice Of Russia's insight:
Internet radio broadcast from the Voice of Russia with Alexander Nekrassov, former advisor of the Kremlin. Todays entertaining show is about Britain, Immigration, Philippines, Social mobility and unusually timed Tattoos. Telling It Like It Is episode 10 includes World news and Latin news that includes a nostalgic memory of John Major.
See on
voiceofrussia.com
In 2008 at a Sotheby's auction a triptych sold to Roman Abramovich for eighty six millions two hundred thousands this week one went for not quite double that amount. Alexander Nekrassov reports from London about William Acquavella, the New York dealer, is thought to have bought the painting on behalf of an unidentified client. The rich dimwit purchased a triptych of portraits of Lucian Freud by Francis Bacon's Tryptych for one hundred and forty two million dollars. and the art world and the world beyond it goes nuts. It's the biggest amount of money paid for a modern artist in the history of auctions.Russian oligarchs and art critics are very interested in Bacon's Tryptych and other works of art. Edvard Munch's Scream, another acquired taste. The previous record was achieved last year and it was clear then that the heights of stupidity of the new rich would rise.
Filthy rich dimwit buys Bacon's Tryptych for $142 million, now what?
Related articles
NEWS: At $142.4 Million, Triptych Is the Most Expensive Artwork Ever Sold at an Auction (art-antiques-design.com)
What do you think the odds are that David Cameron will win in 2015? Adam Lovejoy explores the question and has made some very bold claims about future politics in Britian. In todays article you will find out more about David Cameron and have a reasonable understanding of the New Tories and what area of politics will be in two more years. The United Kingdom Independence Party are a formidable force that is currently trying to challenge the European Parliament and with that said Adam reveals some interesting things that you will want to know about. Read all about political correctness and Tony Blair over on Stirring Trouble Internationally. Its another chance for you to brush up on what happened with the war in Iraq and read the latest and greatest updates about Nigel Farage appearances in the House of Commons. Rupert Murdoch over the dinner table provided everything anyone would need to know on a napkin which is something the relevant politicians decided to take action on and the direction of Britain is now firmly set in stone.
Here's one prediction for you: David Cameron and his lot will win in 2015
.
Anton Goryunov is in Moscow writing about a past friend of his who was murdered over fifteen years ago to help you understand the anti-gun lobby and where it seems to be going with people living in America and around the world. He says the anti-gun lobbyists are missing some points and shares them with you. The story is about a history of violence in London against a physical publisher from Russia who had high expectations of publishing in the cities around the world and reaching readers in the United States, the type of people active in the anti-gun lobby. This article addresses people who watch violent films, the realities and possible consequences of being exposed to these films. This also includes a stark reminder to politicians and celebrities to be mindful of this story to. Here it is here:
Why the anti-gun lobby is getting it all wrong
.
The politicians lecture circuit has been a lucrative alternative for life after the political limelight. Adam Lovejoy a political and economic analyst and futurist from London takes about the profession explaining the variables and behind the scenes notes of the industry. Two politicians lecture circuit tours of duty the Tony Blair compared with Gordon Brown (2 former British PM's), how much you can earn from these types of lectures. Unlike lectures from Harvard, Tony Blair and Gordon Brown offer educational contrast, although free from an American accent. Following in the footsteps of US speaker Bill Clinton who was leader on the US lecture circuit leading the way in this type of new vocational occupation.
Politicians making a buck on the lecture circuit
.