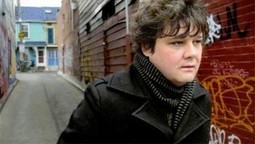 Freddie Matthews writes from
London
49 year old
Canadian
singer-songwriter
Ron Sexsmith
returns with his 13 album in 22 years of releasing albums.
Granted, not all of these are actual new studio recordings but I'm making the point that Sexsmith is no new boy on the music scene.
English: Ron Sexsmith at the 2010 Gemini Awards Deutsch: Ron Sexsmith Español: Ron Sexsmith Français : Ron Sexsmith Nederlands: Ron Sexsmith Svenska: Ron Sexsmith (Photo credit: Wikipedia)
Sexsmith a father of two. Ron Sexsmith single Speaking With The Angel
Elvis Costello
liked Sexsmith so much that he invited them on tour with his team.
English: Michael Bublé performing in Sydney, Australia in February 2011. (Photo credit: Wikipedia)
Sexsmith in 2001 played live on
Later … with Jools Holland
other singers that day were Norwegian singer-songwriter
Ane Brun
and
Leonard Cohen
.
More here (Photo credit: Wikipedia)
Ron Sexsmith has been compared to Paul
McCartney
and one of their songs Secret Heart has been sung by
Nick Lowe
and
Michael Bublé
.
Related articles
Paul McCartney was in the right place at the right time. Ron Sexsmith wasn't but it's never too late.
See on
www.stirringtroubleinternationally.com