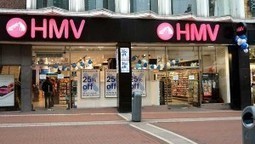 HMV bites the dust. Tears will be shed but the Internet is taking over Freddie Matthews writes from London, he is very sad about the news that HMV has gone into receivership here in the UK and Ireland. He takes a look at the new ways of buying music and shares his incites into the best places to buy music online. He does his best to keep you updated with new things happening and shares interesting information previously shared here on Stirring Trouble Internationally earlier in the week. Its a sort of follow up post.
English: Duncan Jones with his father David Bowie at the 2009 Tribeca Film Festival for the exhibition of Jones's film Moon. Photographer's blog post about this event. (Photo credit: Wikipedia)
Ozzy
In this interesting article Freddie starts sharing about Busted singer
Charlie Simpson
and leads up to sharing his sadness by focusing on a really cold gig in Russia by Charlie Simpson. You can find out why by going over to Stirring Trouble Internationally.
If you do not like what is happening on the high street then you can join Freddie as he recommends you like Charlie drown your sorrows with some really good vodka.
Ozzy 'Black Sabbath' During this cold weather its probably the best advice and if you are stuck at an airport in between flights then I am sure you will want to know more about the
Ozzy Osbourne
Airport.
Echo Liverpool MTV Awards
Also look out for the announcements from
Black Sabbath
and how 35 years later the same thing is happening. If you like rock music then you will want to know these things.
Freddie takes an interesting look at venues available around the UK and makes some humorous suggestions for the
MTV Europe Music Awards
where they should be held and what areas of the country they should try out to entertain people in the UK. He also points out some home truths about Liverpool's
Echo Arena
sponsorship of musical award events and spills the beans about various things that keep the music industry afloat during the wet season.
EJ's
Freddie reports about
Sir Elton John
and congratulates him on his announcements to Hello! A popular magazine that has some really interesting upfront information about what is going on. If you want to know what this important announcement is then you should either buy a copy of Hello! or go over to Stirring Trouble Internationally and find out the good news.
B MTV
Today's report seems to be effected by a lot of things and you can find out all the opinions and complaints over on stirring Trouble Internationally. If you want to engage in an angry rant about the loss of the music industry and how certain artists are not really delivering the best music then this post is definitely for you.
English: David Bowie's guitar. Located in Hard Rock Café Warsaw. (Photo credit: Wikipedia)
If you are looking for some snippets of incite full information again this post is for you. If you are looking for some decent humour and satire again this post is definitely something worth reading.
A you may recall earlier this week Freddie wrote a really positive review about
David Bowie
so with that in mind there is some additional information shared about one of David Bowie's drummers, go over to Stirring Trouble Internationally and find out more about that.
Conor Maynard
As a double positive ending Freddie lifts you up with his recommendations about
Conor Maynard
Billboard 200 album chart
Contrast as a British pick me up version of Justin Beiber during these rough times and difficult news. Source ' British Music – Sunday 20 J... ' Stirring Trouble Internationally
Related articles
Jim Bob's insight:
You do not want to miss today's post by Freddie Mathews becuase it's all about Black Sabbath, Britain, Charlie Simpson, David Bowie, Elton John, entertainment, Liverpool, Media, MTV Europe Music Awards, News and more about Ozzy Osbourne airport. Find out what everyone will be listening to from now until March. Great place for music reviews from Britain during the hard times of recession in the stores and on the high streets of Britain.
See on
www.stirringtroubleinternationally.com