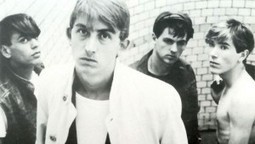 Talk Talk are the talk of the town as Natural Order sensitively delves into their back catalogue...
Freddie Matthews writes from

London

about

Talk Talk

and their pioneering new Synthpop and

New Wave

album. This is a reflective post from London about the early years of Talk Talk and the Talk Talk we see and hear today.

The natural order of things. (Photo credit: anyjazz65)
Talk Talk started out in the

New Romantic

music scene and they were branded as such alongside other global popular British bands one of which that Freddie allures to is

Duran Duran

. Duran Duran also did and still do great songs, they are great live and I am sure you agree go well in any collection of music.
Talk Talk Cover

Another band who Freddie singles out as a comparison of the Talk Talk we hear about today is Roxy Music. This Freddie says is something to do with the sound of singer Mark Hollis, apparently his voice sounds like Brian Ferry from Roxy Music. If you like Roxy Music and Duran Duran than I am confident you will go out and have a listen to Talk Talk.
Talking (Photo credit: JPott)

Other bands that have been about that you may feel emotionally attached to the sounds or gravitate to what they are singing about from albums like The Colour Of Spring in 1986 and onwards are retrospective of the style of music. All of these bands in one way or another seem influenced by Talk Talk.
English: Duran Duran live in Bogota. (Photo credit: Wikipedia)




Check out Portishead, Radiohead and

Death Cab For Cutie

for further validation of Freddie Mathews passion for the Talk Talk sound and other bands he feels have been influenced by Talk Talk. They have a really good sound I definitely recommend you check them out.
Deutsch: Death Cab for Cutie in München 21.11.2008 (Photo credit: Wikipedia)




Talk Talk 'Natural Order' seems to draw from

Natural History

and like many other bands they continue making profits by the distribution of there sounds to advertising cars on television. People often gravitate to this music because they feel comfortable with other decisions they have made. Purchasing things, consumerism and commerce all depend on each others support. You can hear this in the lyrics more-so in new songs that are specifically wrote for ad campaigns. Many ads now are simply acoustic versions because acoustic make really good jingles.

Talk Talk 1976

Mark Hollis Freddie points out is good at artwork and you can see this on any Talk Talk compilation cover and as already mentioned Freddie singles out Hollis story as similar to the Morrissey vocal story.
Jim Bob's insight:
Another great review over on Stirring Trouble Internationally that examines the history and describes the detail about the Art work on the album covers. This is a satirical review that makes comparisons with Death Cab For Cutie, Duran Duran, London, Mark Hollis, Music, Natural Order, Radiohead and Roxy Music. If you like Talk radio then I am sure you will really like this review of Talk Talk's new album.
See on
www.stirringtroubleinternationally.com