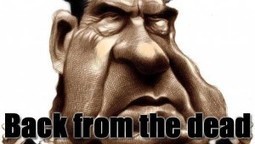 Jukka Renkama writes from
Washington
How about
Richard Nixon
as a role model for modern politicians? Republicans, actually. In America, of all places. Fox News correspondent
James Rosen
and politics for Republicans who copy Nixon into a majority. in 1972 he got into the
Oval Office
again and was later impeached in the 'watergate' scandal.
Nixon was a conservative, a patriot with a liberal agenda and brought to the world
Nixonomics
to challenge the opposition
George McGovern
who disliked that Nixon was a pro-rich Republican.
Nixon US international commitments Washington Democrats the
Watergate scandal
changed a lot of things. Nixon with Latino voters and help from the
GOP
and the Democratic voting African Americans.
Nixon competence on Nixon of international politics who occupies the
White House
.
Mitt Romney
unlike Nixon he was an easy target to the Democrats. A rich mans candidate and memory of
George W. Bush
.
Nixon money and manpower.
Related articles
The GOP needs a modern day Richard Nixon. It has to move to the centre to win next time.
See on
www.stirringtroubleinternationally.com