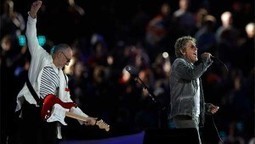 Freddie Matthews writes from London about the announcement of a new tour promoting a new album in conjunction with Quadrophenia. Freddie's surprisingly looks deeper into the rumours about
The Who
on tour again. It's not just any old tour but they're performing their iconic 1973 double album
Quadrophenia
, from start to finish.
The-Who-1966 (Photo credit: Wikipedia)
By all accounts the remaining 2 original band members,
Roger Daltrey
and Pete Townsend, as well as the rest of the band, will also perform many of the old and bold classics to help bolster the set list.
English: 1967 - The Who - Roger Daltrey (side) with Keith Moon. The boys backstage before their gig in Ludwigshafen, Germany. (Photo credit: Wikipedia)
Roger Daltrey
Keith Moon
,
John Entwistle
, The Who My Generation
Pinball Wizard
success in
the US
in 1969 thanks to the movie and album Tommy.
Quadrophenia 1973 The Who, Tommy an interesting part of
British culture
that spurred a new style of fashion the likes of
Noel Gallagher
and
Paul Weller
follow. There are shops in London where you can buy these type of clothing.
Quadrophenia at Sounds Film Festival 2008 (Photo credit: Sounds Film Festival)
Led Zeppeli
n says they liked it in 1973 Quadrophenia album is very popular and was notably revived in 1996. The same thing is happening in 2013 the Quadrophenia tour is directed by Roger Daltrey and is described as attempting to revive powerful imagery from the era and special projector screens to make things look up to date.
English: Wheel of Liverpool situated by the Echo Arena in Liverpool, England, United Kingdom. (Photo credit: Wikipedia)
The tour times are announced over on Stirring Trouble Internationally June 30th
Liverpool Echo Arena
to find out more dates follow the red link below.
The Who Quadrophenia is a music legacy, so why's it back in 2013?
See on
www.stirringtroubleinternationally.com
Related articles