Sensible Drinking Don't Drink At All
Anton Goryunov reports from Moscow about the social issues being reviewed there. This post includes news about how to drink safely down the pub and why people go to pubs for a drink. This is a satirical post about social drinking and outlines the points being made in Russia about binge drinkers and the views expressed from people down the pub. Find out more about the views on Dope that have been troubling publicans both there in Russia and here in UK. Read all about DIY at home, and the perks of going from working manual labour to going for a drink after work and things you might face.
Stirring Trouble Internationally
- Sensible drinking is daft. You either get plastered or you don't drink at all.
Tags: Anton Goryunov, Binge drinking, Do it yourself, Dope, Drink, Manual labour, Moscow, Russia, Social issue, social issues, social drinking
Eat On The Go?
It does not matter where you live or where you have to commute to you are going to come across people eating on the train. R.F.Wilson is in London, he is a well travelled man been to places like Spain and other public places and when it comes to public transport, he has seen it all. From people loudly munching on crisps, chippers or french fries to people tempted by the foodstuffs in their bag. You are advised in hot weather to bring a bottle and keep yourself rehydrated with the fluids. Mr Wilson shares his experience about that too. This is the stuff that most people are thinking about when they are on the move. And like plastic bottles and this article it is something to play with whilst going from a - b to make you look busy on the journey. A post made earlier today over on
Stirring Trouble Internationally
- Eat on the go? and why not relieve yourself in front of others?
Tagged: Chewing gum, French fries, Mr Wilson, Plastic bottle, Potato, public places, Public space, Public transport
How To Create the Perfect Tweet
See on
Scoop.it
-
InfoGraphicPlanet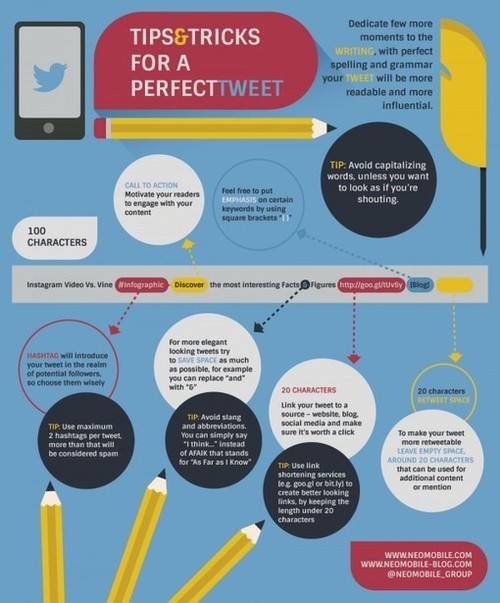 Much has been written about how to write the perfect tweet, from what link shortener to use to how many characters to leave room for retweets. Here is a great guide to composing that perfect tweet. See on
www.mediabistro.com