Telling It Like It Is VORUK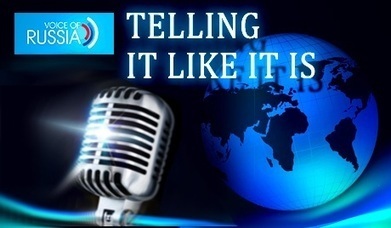 Telling It Like It Is Episode 13
In this week's edition of Telling It Like It Is, VoR's Brendan Cole discusses the week's news with former Kremlin adviser

Alexander Nekrassov

and journalist and broadcaster James Whale.
Jm Bob's insight:
A humorous conversation of this weeks news. Italian news from the Ukrainian news. You can find out more about Boris Johnson, smoking and bicycles. Smoking, blank packets and reshaping sales copy as news results come in from Australia. News from South London about Jesus and some quotes from the home secretary of saving women from 30 years of captivity with a couple living on a commune. A charity organisation managed to save the people from the commune. The Litvenko inquest and documents from Russia and Scotland Yard facts of the death that turned out to be no facts. MI5 reports into the incident has also revealed interesting news about the topic. The business relationships between Russia and the United Kingdom continue to grow and the tourism trade continues to expand. More and more people are looking into the news from the regions. Todays episode mentions a bit about that too.
See on voiceofrussia.com
TV News Channel Runs Repeats
Adam Lovejoy talking from London in an entry on website Stirring Trouble Internationally about news channels and how they should run repeats. Here's a great way for TV news to cut costs the savings could run into tens and even hundreds of millions. TV news channels run repeats about Gordon Brown which is very odd. News reflecting over Saddam Hussein, Tony Blair and David Cameron would go down a treat a no one watching would notice that it was all just a rewrite, a repeat of what has just been said elsewhere. It would be no problem showing Chancellor George Osborne . Or take US President Barack Obama getting that dodgy Nobel Peace Prize. So running repeats of the EU gatherings would be very easy Nicolas Sarkozy's back, the chancer. Why don't TV news channels run repeats from previous years. To cut costs.
Main Theme: television - Labels: Barack Obama, David Cameron, George Osborne, News program, Nicolas Sarkozy, Nobel Peace Prize, Saddam Hussein
----End----
Using The F-Word Sparkle
Dan Majestic reports from New York a point when most people can't even use the F-word properly. I personally blame Hollywood for influencing young people in this way. The swear words like the C-word and other forms of verbal abuse are losing there sparkle.Who needs this sort of attitude. Skills generating good quality verbal abuse like piece of shit, shagging the kid of analyse you'd find on a David Attenborough show looking at the human species. Using the f-word properly. And keeping its sparkle intact.
Main Theme: Satire - Labels: David Attenborough, entertainment, Health, Hollywood, media, New York, news, Profanity, Verbal abuse, Youth
----End----