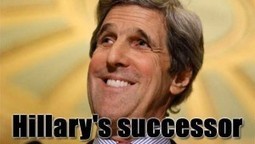 See on
StirringTroubleInternationally.com
-
News From Stirring Trouble Internationally
John Kerry is ambitious. Will he ever make President?Jan Weatherhead writes from Washington: Senator John Kerry is President Obama's choice to replace Hillary Rodham Clinton and so could become the 68th US Secretary of State.
Jan points out Kerry living in America originally wanted the
UN Permanent Representative
position to replace
Susan Rice
but has been nominated for US Secretary of State instead.
According to our records Kerry wanted the
State Department
job four years ago.
Related articles
John Kerry - Caricature
(Photo credit: DonkeyHotey)
Jim Bob's insight:
Originally posted over on Stirring Trouble Internationally in the category 'Living In America' Find out more about Barack Obama, Benjamin Netanyahu, Hillary Clinton, Hillary Rodham Clinton and John Kerry. Kerry has been appointed by Obama as Secretary of State in the United States.
See on
www.stirringtroubleinternationally.com