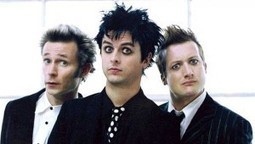 See on
Stirringtroubleinternationally
-
British Music Scene
Why don't a band like Green Day know when it's time to stop releasing new material? iTre! is quite possibly their worst album yet.
GREEN DAY (Photo credit: Sister72)
English: Billie Joe in 1994
Español: Billie Joe en
1994 (Photo credit: Wikipedia)
Freddie Matthews writes from London iTre! Is the final part of the Green Day 2012 trilogy of albums, namely the uninspiring iUno!, I find it unbelievable that a band who, at the Green Day obviously dont think so.
Green Day (Photo credit: EmpyreLounge.com)
Green Day sold 16 million copies of
Dookie
album.
Then a whole decade later
American Idiot
sold over 14 million copies. An album of
American
bravado Green Day's lowest ever selling album, which was funnily enough their last, 2009's, 21 Century Breakdown.
Mike Dirnt, musician, primarily of Green Day. Photograph was taken in Cardiff during the American Idiot tour, using a Casio QV-R40 35mm. (Photo credit: Wikipedia) production by
Rob Cavallo
, on this and the whole album, is desperately seeking new ideas and talent from the band who have long grown out of favour. Green Day
Billy Joe
, in your 40's helping their cause. Get some interesting and humorous critisms of songs like
Basket Case
, Minority, American Idiot and Wake Me
Up
When September Comes and much much more.
iTre! New Album Review: Green Day – iTre!
Related articles
Basket Case (song)
(Photo credit: Wikipedia)
Jim Bob's insight:
A humorous review of Green Day their recent instalments and reflection of their previous greatest hits. Where they were where they have been and where they are at today. Find out some interesting things about their albums, American Idiot, Basket Case and other singles. Get the latest about
Billie Joe Armstrong
, Billy Joe, Green Day and the album review of iTre! from London in the category Music,
Musical ensemble
and finally find out a little bit more about Rob Cavallo.
See on
www.stirringtroubleinternationally.com