Lady Antebellum on this winter's night
Its that time of the year so let's get the Christmas albums out of the way before it's too late and if you are feeling charitable you can go over to Wikipedia who are asking for a small $3 donation this
Christmas 2012
. The band reviewed here has taken Nashville by storm and comes highly recommended in the USA tabloid and celebrity news, so here is our honest UK review, and of course as ever we do our best just like to song says to stir a bit or trouble and why wouldn't we? Christmas 2012 albums reviewed. Original source Stirring Trouble Internationally.
Lady Antebellum puts forward a different addition to standard Christmas classics and they have a diverse orientation of male and female singers in the group, which is great. You can find more about them by visiting their official
Bloggers page
. Those vocals come courtesy of Hillary Scott, Charles Kelley who is on
Last.fm
listed as a member there just like the beach Boys there in that they both have
a playlist
recommending music which you might want to listen to.
One member
Dave Haywood
has a nice Youtube I highly recommend you watch. The video is with the band but it is a showdown with Rick Brickman for you to watch, in fact I liked it so much I have included it in this post so have a listen, watch the video and see what you think, its another Troubled Song!
Hillary Scott Expecting Her First Child
(contactmusic.com).
YouTube http://www.youtube.com/watch?v=5pXrMPtCVcE
"Multi Grammy award winners in the USA so who know they could here in the UK as well." Freddie Mathews.
Country music as the reviewer points out is not popular here in the UK however Blue Grass and folk music, Indie music has its place. Could we consider Lady Antebellum as this and if so do you think this will help them get played on the radio here the UK USA Radio blogs Like CBS local certainly think so they so.
They have invested in a Wordpress VIP package which gives them the ability to post the same post to lots of websites at one time from different States in the US it costs a bomb but means you get the same post turning up in content search here on WordPress and over on Zeemanta which is where the links come from below. See for yourself
Click Here!
Find out more by going over to Stirring Trouble Internationally, find out the difference between pop music and folk music and much much more.
Lady Antebellum Dec music review
Seasonal classics on the album include: Christmas (Baby Please Come Home) a song originally sung by
Darlene Love
, All I Want For Christmas Is You, The First Noel,
A Holly Jolly Christmas
(acountry.com) and much much more.
References
CBS Local (2012): 'Will The Real 'Lady A' Please Stand Up?'.
Wordpress VIP
Online at www.cbslocal.com
Nashville Gab (2012): '
Lady Antebellum
releases new lyric video for This Christmas'. Online at www.nashvillegab.com
Stirring Trouble Internationally (2012): 'New Album Review:
Lady Antebellum
– On This Winter's Night'. Online at www.stirringtroubleinternationally.com
Related articles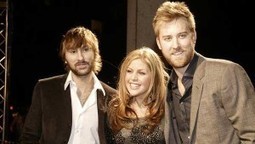 See on
Scoop.it
-
Twitter Hashtags
It may be the norm in the USA but can Lady Antebellum bring the UK a country Christmas and get away with it?
Jim Bob's insight:
Lady Antebellum certainly put a different slant on standard Christmas classics, and the fact that they already have the male/female vocals makes a huge difference for their material versatility. Achieving a Christmas classic proves to be more and more elusive as time goes by. It would seem that our favourites still come from the 70s and 80s – for whatever bizarre reason that no one can put their finger on. Freddie Matthews writes from London.
See on
www.stirringtroubleinternationally.com