Find out more about the
German general election
and the
Christian Democratic Union (CDU)
alliance. Also find out about the CDU and the
Social Democratic Party (SPD)
.
IOUs
and the EU is something that Samuel speaks about in relation to Angela Merkel, the Euro zone and the SPD. Find out what all these acronyms stand for and get the latest news about austerity, Greece, Spain and the EU hospital.
An additional bonus you will find out about Mari Draghi
European Central Bank (ECB)
.
Related articles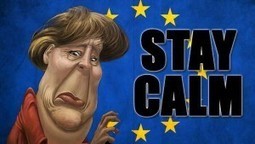 Germany wants to avoid any hard decisions about the Eurozone before next year's general election. It may be a vain hope.
Jim Bob's insight:
Jyrki Katainen, José Manuel Barroso and Angela Merkel. In this entry you can find out all about Angela Merkel, Brussels, CDU, Christian.
Democratic Union, EU, European Central Bank, European Union, Germany and José Manuel Barroso.
See on
www.stirringtroubleinternationally.com
Related articles