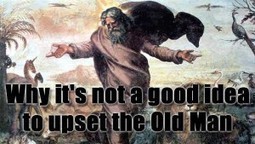 See on
StirringTroubleInternationally.com
-
News From Stirring Trouble Internationally
. A good message to people who don't believe in God. Tough luck.
R.F.Wilson writes from
Rome
about
Christmas
and reinforces his belief and many others that
God exists
and challenges scientific news about
DNA
in humans and animals, intellectually, spiritually and physically.
Take a good look today at Charles Darwin, the evolution myth and Dick Dawkins opinion about science and fictions over on Stirring Trouble Internationally where you can join in the conversation.



My hope is that you can learn from ex leaders who liked and followed the

God Pol Pot

? Telling

Atheists

That It's Not A

Good Idea

To Upset The Almighty.

Related articles

Pol Pot (Photo credit: Natmandu)



Jim Bob's insight:
Today Christmas post is from Henry Forth and his point of view about religion and surrounding topics. Some of the topics include Africa, Charles Darwin, Christmas, DNA,
Existence of God
, God,
Objections to evolution
, Pol Pot, Religion and Spirituality, Richard Dawkins and naturally Rome.
See on
www.stirringtroubleinternationally.com