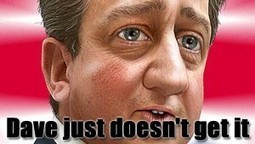 See on
StirringTroubleInternationally.com
-
News From Stirring Trouble Internationally
Taking a cynical look at Dave who is the problem and not the solution.


Dan Majestic writes from New York about Comedians and the amount of money they make Mainstream from the sale of DVDs after their gigs and the way a lot of comedians go about doing this. This post is a must read for anyone who wants to achieve fame and fortune on the comedy circuit but wants to avoid the pitfalls of being pigeon holed or labelled as such in the quickly changing environment that comedians operate in. You can also find all about PC left-wing loony left and chicks who like progressive comedy.
Have you ever found yourself watching television thinking why am I watching this, or ever thought I can can do this, in fact I am quite sure I could do a lot better then this then this is for you. Have you ever walked into a room half way through a tv show, or walked into a comedy theatre late, if you have then I am sure you know all about what it is to be surprised or unengaged in these things. If you look in the mirror and see yourself as a bit of a comedian or when drunk slip into silly voices and accents then I imagine this post is also for you. Read on to find out what it takes to be a successful comedian in the UK and around the world.
You will also find out the secrets that every comedian on stage right now does not want you to know about. And you will also find out more ways of finding out who likes what in amongst who knows who in among what goes where and in a round about way why people say what they say in the way they say it. Find out some more about politically correct comedy the three teachable pulling silly faces techniques.
You will also find out about the comedians intriguing art of talking in silly voices and pulling silly faces just like they do on Saturday Night Live . Case studies from individuals like Jon Stewart of The Daily Show and Mock The Week and other satirical shows on the BBC, what they are looking for and why you get the same scripts day in day out.
Quite simply they work, they have always worked and the obvious assumption of people like what they know rather than something new. Find out how this helped launch and seal peoples careers in showbiz.
Find out why using silly voices is the number one reason why Michael McIntyre rose to fame. Have you ever found yourself wondering why people use religion as a joke on stage and why certain religions are never completely ridiculed, find out the number one thing that all comedians know and do not do for fear of being booed of stage.
You will also get a refreshing reminder about Observational humour and how observational humour is being dubbed the future of comedy in 2013. You will also get a peak at the scribblings of an artist who used to know but now knows nothing other than toilet humour is not good in comedy and find out the number one line used by comedians as an exit strategy when the going gets tough or the tough gets going on stage.
Thinking Of Becoming A Successful Mainstream Comedian? Then Look No Further.

Related articles
Jim Bob's insight:
As we come to the end of 2012 here in the UK its always good to reflect on what Cameron is saying. You can find out all about Dave, politics in the UK and much much more. Some examples include a David Cameron Facebook profile of Labour, Liberal Democrat Facebook page, politics pages, Tony Blair forums, Tories and the Tory News. Find out all about it over on Stirring Trouble Internationally.
See on
www.stirringtroubleinternationally.com