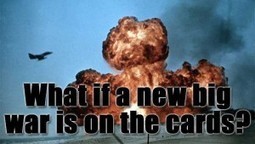 With all the mess in the economy what if a new big war is coming?Adam Lovejoy writes from Paris about celebs like Madonna and what she thinks. Find out more about Europe, glance back at two Big Wars. You will also find out about debts in America, where they are to understand why quite possibly it might be true on paper anyway that another war is on the cards.
In this interesting report find out possible plans from
Israel
in relation to Iran,
Middle East
,
Syria
. You will also get the latest about President
Bashar al-Assad
and what his next orders will be to keep the chance of war up in a bid to fix messy world finances. You will also get some interesting points about Britain's concerns about war. Find out more about
Pakistan
, the
Taliban
and other many other alliances whom could all strike at any-time.
Related articles
Jim Bob's insight:
Adam Lovejoy takes a satirical look at the way the world is to present questions about the economy, world news, celebrity culture and the current flattening of the economy probing war. Asking "is another big war coming?".
See on
www.stirringtroubleinternationally.com