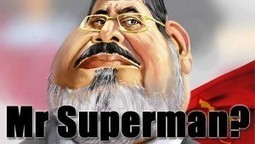 See on
Scoop.it
-
News From Stirring Trouble Internationally
Egypt is facing a hot spring as bread prices rise. Can Morsi cope?
Mehmet Ali writes from
Cairo
about the
Muslim Brotherhood
and the new constitution. In this interesting Christmas article you will find out about the
Vice President
who resigned recently. Find out more about the hot-headed decisions being made in
Egypt
and get the
Al Azhar foundation
opinions about law.
Find out what this means for women and people on the fringes and get a better understanding of the constitution, Islam, Judaism and Christianity.
Find out more about President Morsi and the age groups of people in the country, you will be pleasantly surprised. Be sure to check out Stirring Trouble Internationally.
Find out the full scoop about the
International Monetary Fund
, find out more about the
European Union
during the festive season.
You will also find out about fuel and resources, if you are currently living in the
United States
and thinking about moving to Egypt soon then you will love this.
Related articles
Christine Lagarde,
Managing Director,
International Monetary Fund
(Photo credit: Wikipedia)
Jim Bob's insight:
The holidays scoop about
Cairo, Egypt
, European Union, Hosni Mubarak, Islam, Islamism, Muslim Brotherhood, secularist and the United States.
See on
www.stirringtroubleinternationally.com